Bensonn Anspach
UX Designer, SAFe 4 Agilist & CSPO
Penfolds Interactive Wine Tasting Table
Senior UX Designer
Making wine tasting a more memorable experience in the moment
& the next morning
The Story
At the time of engagement Penfolds was utilizing an Ideum multitouch table in their wine demonstrations to vendors, but only as a slideshow that participants could rest their wine glasses on.
Penfolds, a historic high-end Australian wine producer founded in 1844, wanted to find a way to utilize technology to modernize and augment the experience of vendors, visitors to their winery, and customers in-store.
The project goal was to create a modernized sales experience fully utilizing the advantages of a touch screen presentation table.
—
My role on this project was Senior UX Designer concepting around augmented wine tasting
Responsibilities
Sketching then wireframing the experience
Interaction design for use on a multitouch screen by multiple people concurrently

Working closely with the developer to bring the visit to life



Tools
Paper & pencil, InDesign, Ideum Multitouch Table, Google Slides, Google Docs
Ethnographic Research
It was a tough job, but necessary. We attended several wine tastings and considered the following:
What are the general components of a wine tasting?

How many participants were in a typical wine tasting session?

What attributes that make someone select one wine over another?

What are the major take-aways that the sommelier wants to impart to the taster?

How do people remember their preferred wines post-tasting?
More often than not, people go to wine tastings to drink, learn how to better evaluate wines and get an education on what it is that makes a wine special. Unfortunately, they have a tough time remembering it all the next day. Although participants arrive in a group, this is a personal experience.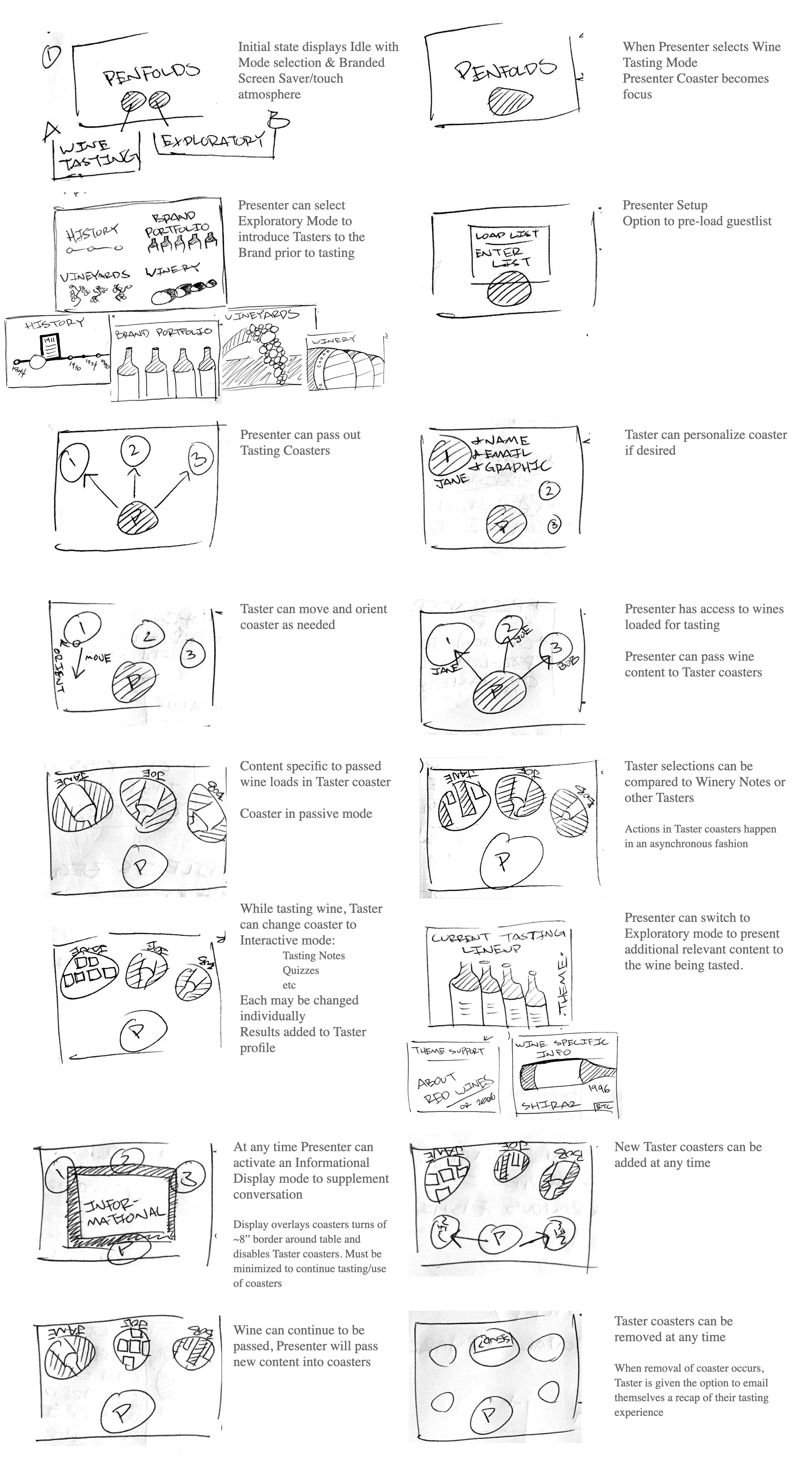 Sketches
After gathering insights on wine tastings the team came together to synthesize our notes on the experience.
Based on the preliminary pain points that we identified, I started sketching ideas of how the experience could translate to the Ideum multitouch table.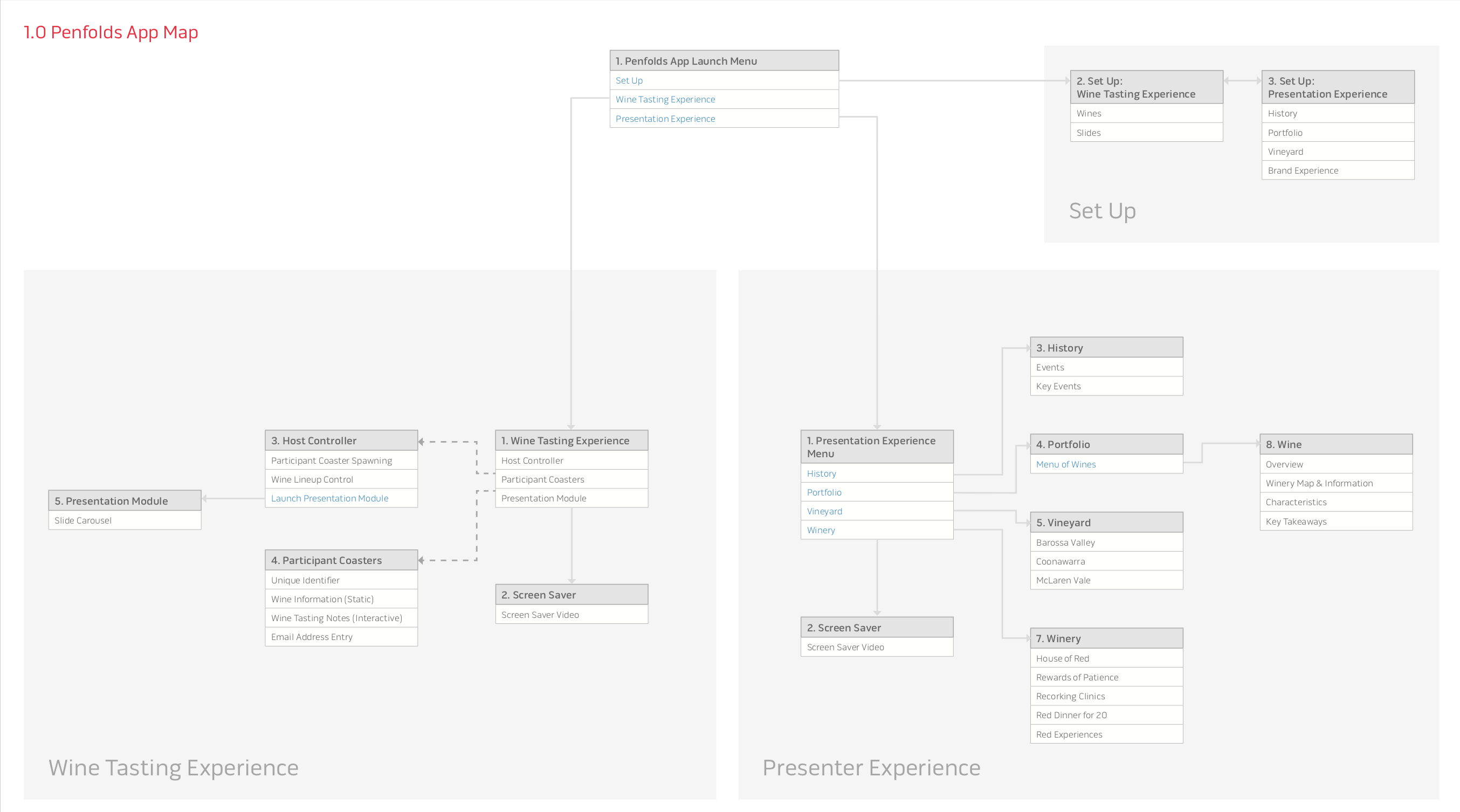 App Map
An app map was constructed as a punch list for what screens would need to be designed and also served as documentation of the system. This living document evolved as the app evolved to not just be a wine tasting but also as a presentation experience.
At a high level we knew that the application running on the table would have three primary components:
Set Up Mode

Wine Tasting Experience

Presenter Experience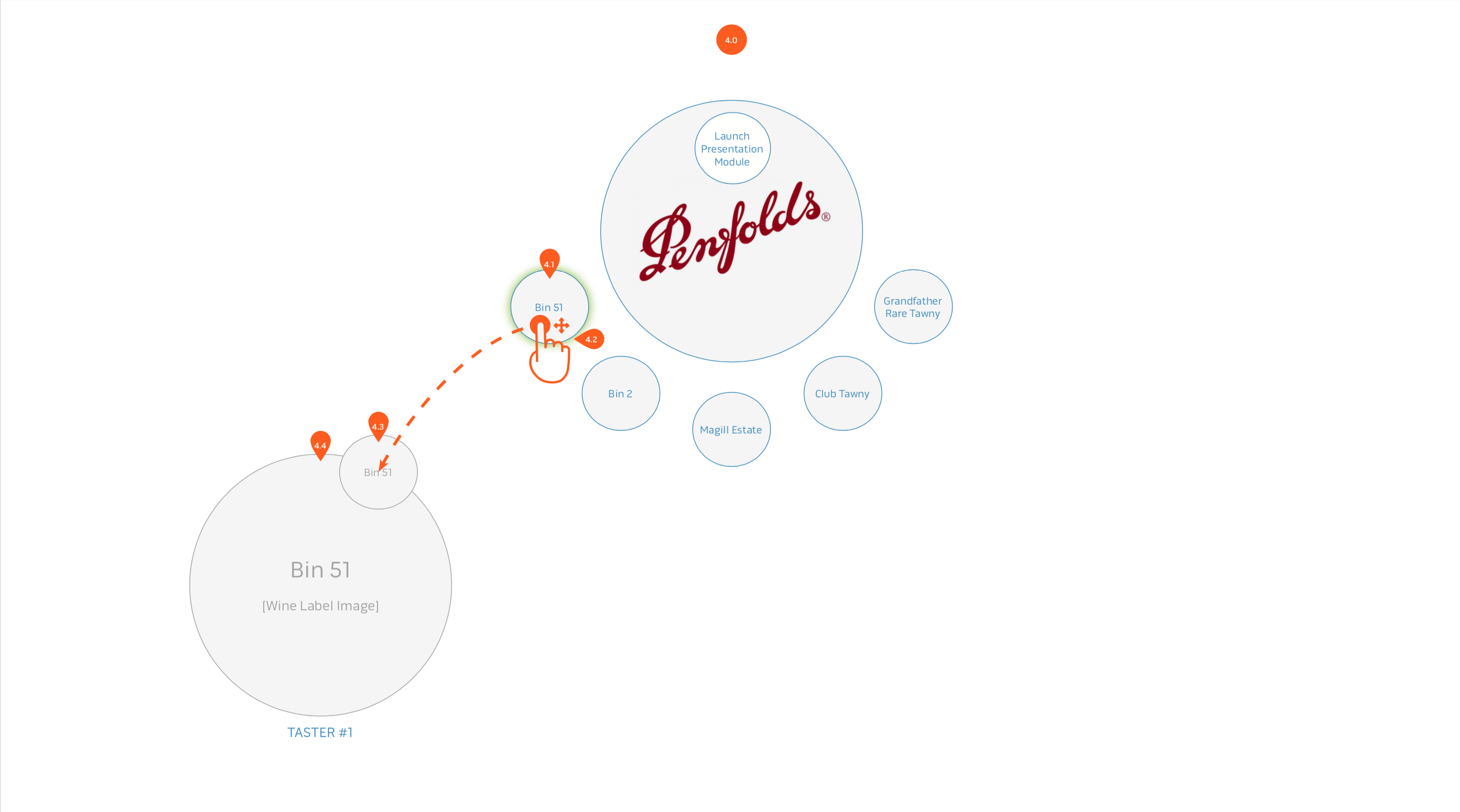 Wireframes & Paper Prototyping
Sketched concepts were hardened using mid-fidelity wireframes with annotations captured in a separate table.
Wires & annotations were created using InDesign



By using InDesign they became a skeleton document that the design team could work directly on top of
Wireframes were used in paper prototyping and play-acting. As a part of refining the experience we cut out coasters and interfaces to slide on the table and act out the wine tasting.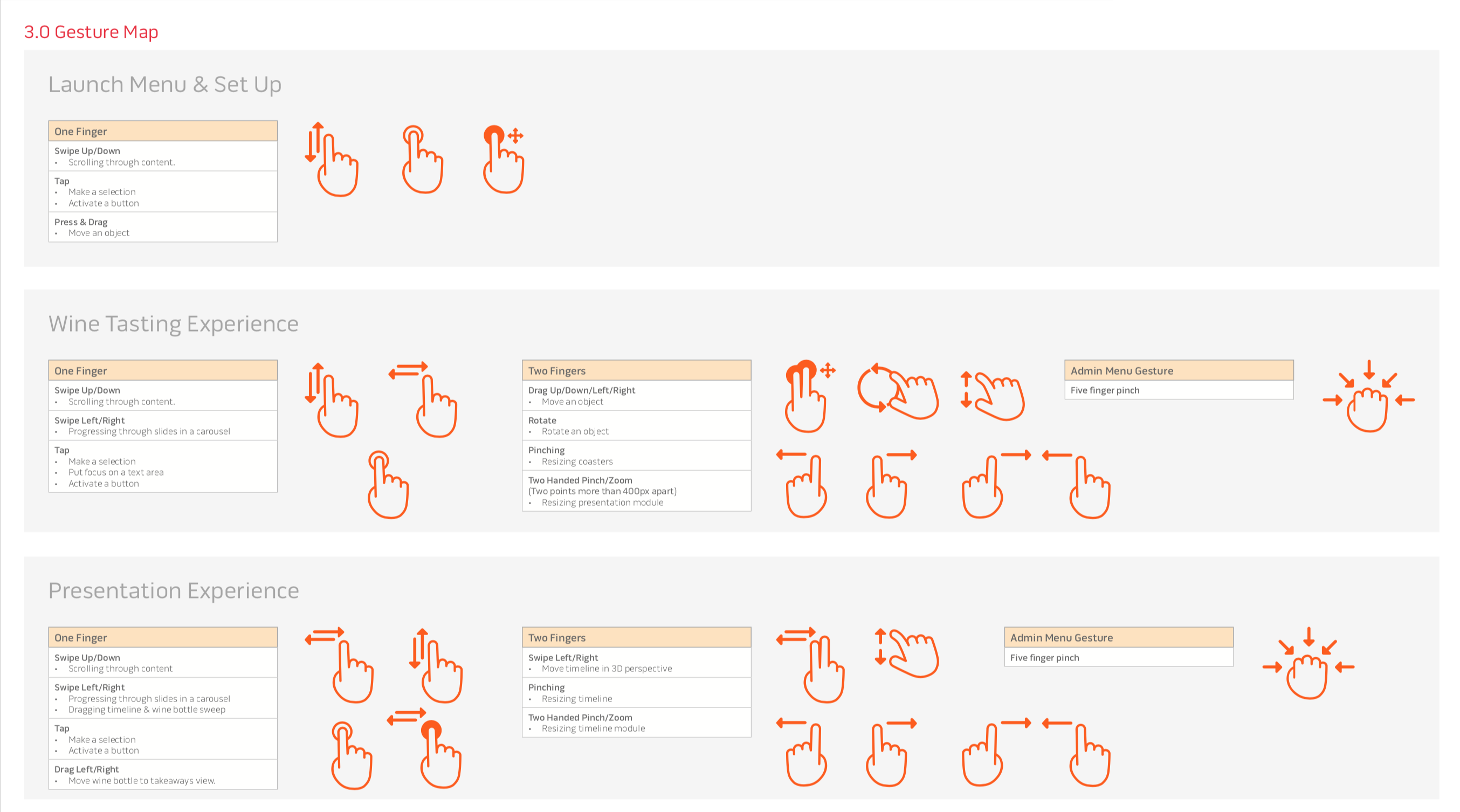 Interaction Design
A wine tasting is a one-to-many experience which worked well given the Ideum multitouch table could accommodate up to 20 simultaneous touch points.
Interaction centered around coasters representing each participant, their glass of wine and the finding that each participant has a personal experience at a wine tasting.
Lessons Learned
This was an incredibly fun project to work on and getting familiar with this new hardware was a treat. However, there were some challenges along the way.
Challenges with multitouch

We had to consider the interactions of several participants at once and how they may simultaneously interact with the screen. Play-acting was critical to understanding this better.

Traditional experiences can be augmented with technology

Augmentation requires upfront research of the experience and focusing on what makes the technology useful